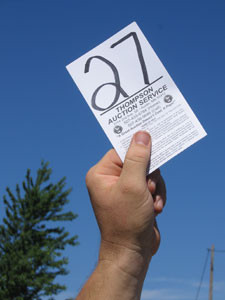 We love selling at auction and wouldn't be able to do that without you, the buyer(s). As auctioneers our objective is to promote the auction method of marketing and provide our services to those who wish to sell their personal property & real estate at public auction and promote to you the buyer(s) using this same method.
It's important to know what you're doing when at an auction. We hope you are as excited to be there as we are. If you are new to the auction, be sure to seek out staff members if you have questions. We want your experience to be memorable and want your continued business.Happy Bidding!
Things you should know (The Rules)…
All items are sold "as is" and neither the auctioneer nor the seller makes any warranties or representations of any kind with respect to the items, and in no event shall they be responsible for the correctness of the description, physical condition, size, quality, rarity, importance, medium, provenance, period, source, origin or historical relevance of the items and no statement anywhere, whether oral or written, shall be deemed such a warranty or representation. Prospective bidders should inspect the merchandise thoroughly before bidding to determine its condition, size and whether or not it has been repaired or restored. All sales are final & refunds will not be given.
Some of the lots in an auction may be offered subject to a reserve. This reserve is a confidential minimum price agreed upon by the seller & THOMPSON AUCTION SERVICE below which the lot will not be sold. In any event when a lot is subject to a reserve, the auctioneer may reject any bid not adequate to the value of the lot.
The auctioneer reserves the right to withdraw any merchandise before the sale and shall have no liability whatsoever for such withdrawal. This will only happen when there are potential issues with said item such as legal issues.
The auctioneer will be the final judge as to who is the successful bidder. In the event of any dispute the auctioneer shall at his discretion decide to reopen the bidding or not.
As a service to our customers THOMPSON AUCTION SERVICE will execute absentee bids if so authorized in writing. Absentee bids should be made on the Bidder Form available in the office. This form should be clearly and completely filled out. All absentee bids will be executed competitively during the sale. Items will be purchased for the lowest price possible regardless of the amount of the order bid. Where two absentee bidders bid the same amount the first received will be honored. This service is offered as a convenience and THOMPSON AUCTION SERVICE will not be responsible for any errors or failures to properly execute the bids.
On the fall of the auctioneers hammer (cries "SOLD"), ownership to the offered lot will pass to the highest bidder acknowledged by the auctioneer, and as such the bidder assumes full risk and responsibility and will pay the full purchase price of the item (s).
All items are subject to a 10% buyer's premium, 15% buyer's premium for Proxibid Online Auctions which will be added to the successful bid price and is payable by the purchaser as part of the total purchase price.
All items are subject to a 6.875% sales tax in Minnesota with additional city tax where applicable (Ex. Austin, MN +0.5%), unless the purchaser possesses a sales tax exemption number.
All accounts are to be settled by the end of every sale. We accept Cash, Bankable Check, MasterCard, Discover & Visa.
All property must be removed from the location of each auction site unless other arrangements have been made with the auctioneer or owner. If items are not removed a moving and/or storage fee of one dollar per day will be charged to the purchaser of said item (s). In addition items not removed from the premises eight weeks after date of sale will be resold at auction. Thompson Auction Service shall have no liability for any damage to or loss of property left on premises.
Thompson Auction Service may at its discretion and at purchaser's request package and ship items as directed by the purchaser. In such event, purchaser agrees that all such packaging, handling and shipping is at the sole risk of the purchaser and that Thompson Auction service shall have no liability for any loss or damage to items. Purchaser shall pay in advance all packaging expenses including labor, materials, postage and carrier fees and all insurance charges.
Bidding on any and all item(s) indicates your acceptance of these terms and all other terms announced the day of auction.Everyone is eligible to bid if registered, including Auction Staff (they need to pay just like everyone else).