Buying or Selling a Home? Dave can help.
While he can't tear a phone book in half with his bare hands, Dave can help you with your real estate needs, buying or selling.
Dave's been in the business since 2002 and currently serves as a Real Estate Broker Associate with Infinity Real Estate in Austin, MN.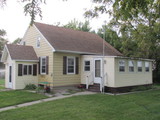 CLICK HERE to SEARCH Dave's
Real Estate Listings
Referrals are the biggest contributor to Dave's real estate transactions.   Traditional listing and sales at auction.  Whatever your situation, it is Dave's greatest desire that you are satisfied with the outcome.
They say you can learn about a man by the company he keeps. Dave is a member of NortstarMLS formerlySEMAR (South East Minnesota Association of Realtors) and the NAR (National Association of Realtors. He belongs to the National Auctioneers Association and is the 2019 President of the Minnesota State Auctioneers Association. He also enjoys being a member of his local Chamber of Commerce!
Customers who were so satisfied with his services provided testimonials of their experience. Check out the Testimonial page!
Contact Dave today to get moving on the sale or purchase of your home!